Kona Bowls Superfoods
Bởi Marina Tran-Vu
Living in Colorado, you don't get to see the beach that often. Towering mountains and flat plains dominate the landscape and the nearest ocean is 1,000 road miles away. Luckily for residents of Golden, Colorado, a local business called Kona Bowls Superfoods is bringing the coastal flavors of Hawaii to the centennial state with a commitment to health and happiness.
In 2018, Alissa Mattson and her family left the beaches of the Big Island and moved to the mountains. Settling in Golden, Colorado, just outside of Denver, she materialized her life long dream of "creating a space and menu that are rich in happiness, health, and bold choices" by opening her own wellness-inspired cafe. Fast forward to today, Alissa operates a thriving space of nourishment for people to come and feel well.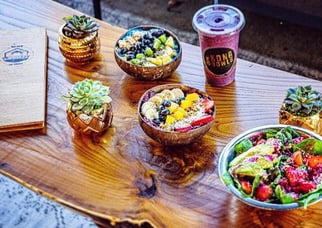 Located within the Tributary Food Hall & Drinkery, Kona Bowls Superfoods shares a space with six other micro-eateries plus a coffee shop and full service bar. They offer a unique plant-based menu of wholesome acai bowls, salads, buddha bowls, smoothies, specialty toasts and delicious drinks. All menu items are free of refined sugars and dairy.
Since the Coronavirus pandemic began, Alissa and her team have had to change numerous aspects of their business from how they serve food to how they work with other businesses in their communal space.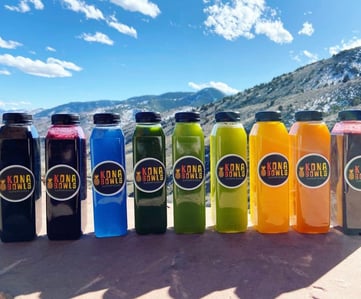 Colorado shut down indoor dining along with many other states in the country and while Kona Bowl's business model already offered a strong carry away program, the loss of indoor space was concerning. 
"During quarantine, we totally pivoted," said Alissa. "We had a pretty good takeout system in place, but we brought in third-party apps to help get deliveries out the door. We also worked with other business owners here at Tributary, turning our food hall into a farmer's market and rolling out online ordering via Toast across all of our businesses. We were able to harness each others' customer bases in this way, allow customers to order from multiple eateries at once, and all benefit financially. It was a win-win for everyone."
When asked about what she's learned as a business owner this year, Alissa said, "We've really been reflecting on that. We've gotten to focus on trying to educate people about the health benefits of the superfood menu items we offer, and the response from that has been great. I think it's helped that we're all so focused on our health right now anyway."
For other businesses trying to make adjustments as we head towards another possible shut down, Alissa's recommendations would be to, "try to predict peoples' needs, fully utilize social media, and collaborate as much as you can with other local businesses. Also, try to "green" your supply."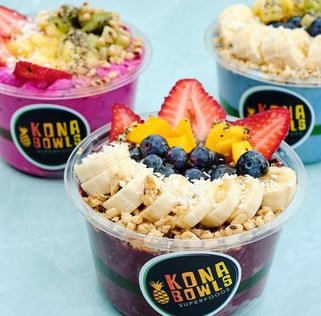 Sustainability is a huge part of the team's mission at Kona Bowls and Alissa has advice for other restaurant owners trying to operate more sustainably.
"We learned to compost and recycle during our time in Hawaii and we care a great deal about how we're impacting this planet. I think a lot of our clientele expects us to operate sustainably as well. It's just part of who we are and what we're about."
"We use compostable containers and bags, incorporate primarily vegan and vegetarian options into our menus using local ingredients, and find ways to get creative with how we promote sustainability, especially through social media and advertising. We're proud of what we're doing and want to share why these practices are important with our community."
As a foodservice operator, it's important to have resources to turn to for information. Alissa says, "I feel really fortunate to live in a community that's really supportive. I think we're successful because we really strive to take care of our people. I'm also part of several local business forums which have been instrumental in helping everyone adapt."
Alissa's main philosophy as an entrepreneur is to give and serve. "I love the job that I get to do, it constantly fills me up and keeps me energized. I just want to be able to serve people and make it accessible, easy, and fun to eat healthy."
Next time you're in the Greater Denver area, be sure to swing by Kona Bowls Superfoods, grab some healthy eats and say hello.