Nice Guys Pizza
By Marina Tran-Vu
Everyone enjoys a good slice of pizza, especially when there are good people serving it. Nice Guys Pizza ticks both of those boxes becoming a local favorite over the last eight years in their hometown of sunny Cape Coral, Florida. While their to-go operation was limited pre-pandemic, they've successfully adapted to evolving consumer tastes and have continued to transform.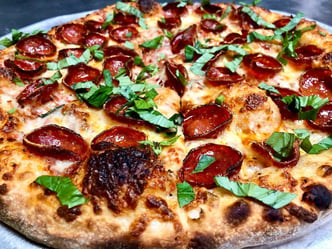 Greg and Jov Gebhard started Nice Guys Pizza with a vision of creating dynamite food and drinks served by friendly folks.
They stuck to that commitment, growing their team to nearly thirty employees since launch, but not without a few bumps along the way. Enter: the Coronavirus pandemic.
Greg says, "Every week there is a new rule book that we need to learn and figure out how to work with. We've needed to be on our toes even more than usual and that's saying a lot coming from a bar and restaurant."
Despite the whirlwind of transitions, the Gebhard crew have been overwhelmed by the positive response from their customers and community. "We've learned that most people are super cool", said Greg. "We already knew that our customers were awesome, but we've had a TON of new people calling in and trying us out. 99% of them have been really patient and understanding about changing protocols."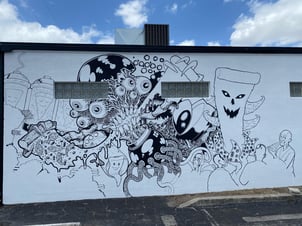 "We're lucky to be a part of a really awesome community, and we all drive each other to look out for the best interests of our area," says Greg.
"We always try to stick to our values, even if it's not the best financial choice. It's more about doing what's right."
For restaurant owners looking to run their business more sustainably, Greg shared his perspective: 
"I would tell them to step back and look at their operation from above. Look at your departments and try to find ways to make each one better. For us, we can focus on the food prep aspect and reduce waste there.
Then we can look at our foodservice and sustainable to-go packaging. Then we can look at our cocktail program and see where we can make better use of our ingredients (water being the main one) and be more sustainable here as well. If you try to do everything at once, it's more likely to seem unattainable. It's all about baby steps.
I would then tell them to ask their staff and peers if there are ways that they can suggest improvements. The more minds that go into the effort the better. Don't try to do it all alone.

Finally, I would tell them that they can pass some of the cost on to the customer. If they think that $0.12 is too much for them to spend on a to-go package, they can increase their price. The customer will generally appreciate the fact that you are putting in the effort to be green and not worry about the extra cost."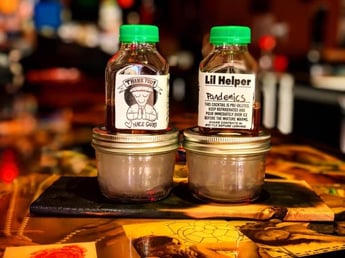 Nice Guys uses a variety of compostable packaging products in their operation and Good Start Packaging juice bottles and caps for to-go handcrafted cocktails. Greg says, "It's really important to us to use sustainable products wherever possible."
The crew are also always on the hunt for new approaches to operating with the environment in mind. "We follow 86waste on Instagram...along with Hunky Dory in Brooklyn. They have some REALLY great ideas on how to be a better business," says Greg.
Next time you find yourself in Cape Coral, stop in for a bite, beer, or a cocktail. And if you're in the mood for vegan food and arcade games, they're got that covered too. Personally, we've heard amazing things about the vegan General Tso's chicken.