Bittersweet Dessert & Cocktail Lounge
By Marina Tran-Vu
How many small businesses do you know that pay for their employees to pursue industry-related education, formed a coalition to further diversity, inclusion, and employee safety and were featured in Forbes Magazine? Well, we know one, and we think you should too.
Kim Hammer founded Bittersweet Dessert & Cocktail Lounge back in late 2013 with plenty of ambition and years of experience in the food industry on her side. "I started this business because I wanted to combine my love of cocktails, coffee and desserts all in one place. Basically all the 'extras' of dining out - they have always been my favorite part!"
Based in Raleigh, North Carolina, Bittersweet is a neighborhood bar, coffee shop and dessert spot wrapped up into one location. Including Kim and her bar manager, Lewis Norton, the Bittersweet crew is made up of about twenty hard-working team members who care about the quality of the food they serve just as much as the community they're a part of.
Like most businesses, the Coronavirus crisis has proven to be both a challenge and a learning experience for Bittersweet.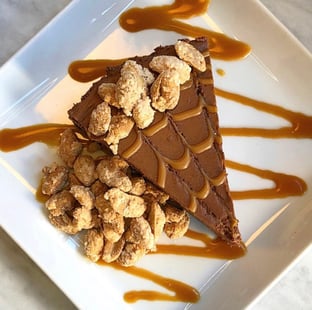 "This pandemic and our country's response to it has been eye-opening," said Kim. "It's been difficult to witness how little help foodservice operators are getting, both on political and regulatory fronts."
"While it can be very easy to stay cynical, I've learned that one should never give up hope. We've seen a good response from our customers from our years of practicing our morals and that can be really reassuring."
Kim went on to share that this experience has also shown her how much work her industry still has to do when it comes to diversity, inclusion, and employee safety. This realization prompted her and other local business owners to form a coalition on these issues. "We hope that this will create a ripple effect that can spread in our community and make Raleigh a better city for the service industry."
When asked what her biggest challenge has been, Kim said, "feeling helpless to assist and support my staff. Knowing that some of them may choose to leave this industry... This has made me want to work even harder to give them a richer experience as an employee—to make their job about so much more than money. It is a safe space to work, it is a place to learn and grow…we are trying to be as much of a shelter in this storm as possible."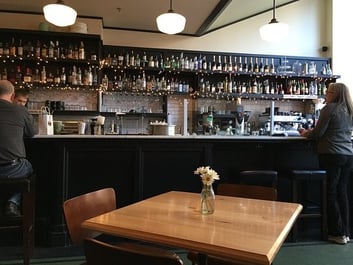 Fortunately for Bittersweet, the surrounding Raleigh business community has proven to be a much-needed support system.
Many independent owners have been in constant communication with each other, deepening friendships, providing support, and sharing knowledge in a collective effort to keep their businesses afloat.
Kim's main advice for other small businesses looking to adapt more effectively would be to "cut expenses without compromising values, support others in your local community, and decide what truly matters to you and stick to that no matter what."
Values are a key part of what makes Bittersweet special, and Kim outlined three principles that have the greatest influence over the work that they do every day.
"TRANSPARENCY - our ingredients, our products, and our safety. We are transparent with employees about where the money is going and how it is used.
EDUCATION - We educate our staff about whatever they want to learn, even if it's not applicable to their current position. We encourage and often pay for any education within our industry that they crave. We also use any opportunity we can to educate our customers about our menu and our products. We have gin classes, champagne classes, etc.
HOSPITALITY - We treat our employees with the same respect that we would expect and that we want them to give our guests. I like to say that everyone who walks through our doors should feel like we are on their side, employees and guests alike."
Sustainability has a significant influence over how Kim runs Bittersweet as well.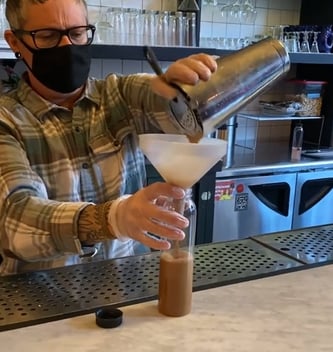 Having been inspired by her kids and their environmental awareness, Kim took a hard look at her own business practices and made the decision to put her values ahead of cost-savings.
She says, "I source all of our takeout packaging through Good Start Packaging, from compostable hot cups to PLA cold cups and paper straws, to make sure that the containers customers are taking with them don't have the negative environmental impact that containers made from plastic and Styrofoam do."
"We also partnered with a local company, Compost NOW for pickup of all our organic waste. Between composting and recycling, we have very little actual landfill trash anymore. We try to share message this with as many other owners as possible. And our employees love to talk about it."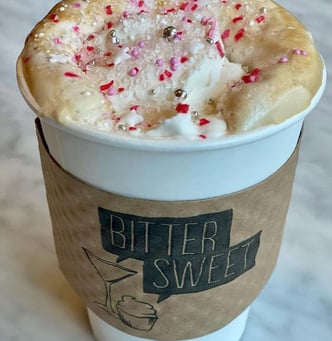 For restaurant owners looking into how to operate more sustainably, Kim says, "Commit to the long game and know that what you're doing is bigger than you. It's easier than you think, and don't be afraid to raise your prices to accommodate this system. We told our customers that our prices on to-go coffee were going up and why and we were overwhelmingly supported. Also, just plan for these expenses in a new business and never hesitate to explain them to customers. Guests want to support businesses with their same values."
Although operations have been limited for a while now, Bittersweet is still serving up some of North Carolina's most delicious treats and drinks, and they aren't going anywhere soon.
In December, Governor Cooper announced a new executive order to allow restaurants and bars to sell to-go cocktails, and Kim and her team quickly jumped on board serving cocktails like espresso martinis and more in 100% recyclable PET Bottles.
Next time you're in Raleigh, stop in or order takeout from Bittersweet or grab a drink at their sister dive bar, Johnson Street Yacht Club, reopening in spring 2021. You won't be disappointed.